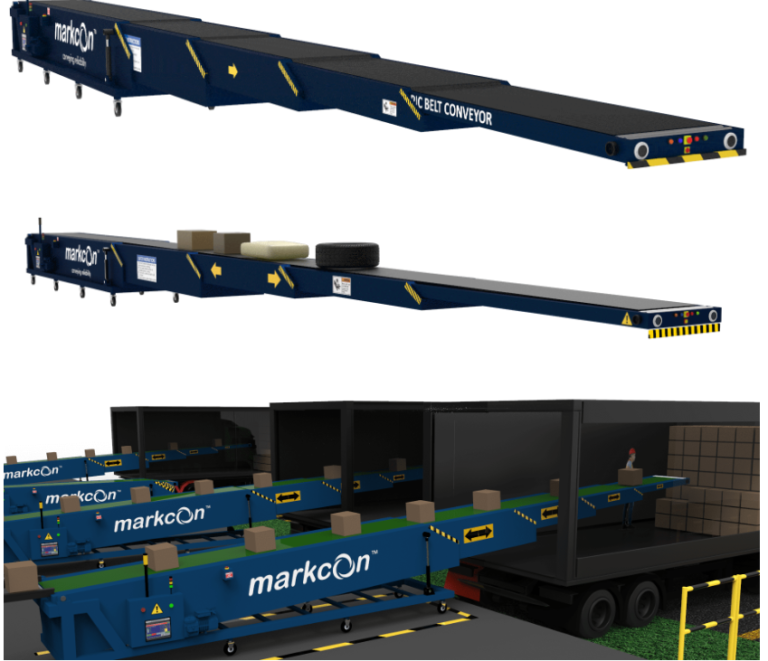 Bakshi Mark Private Limited is one of the largest manufacturers of Telescopic Conveyor in India. Our Markcon Telescopic Conveyors is a portable solution which provides highly efficient and time saving solutions for loading & Unloading.
This is an efficient, fast and an economical solution for loading and unloading of Cartons/ Bags/Packages into and from Trucks / Containers. This eliminates the need for a worker to work inside a dark, cramped trailer, improving overall ergonomics and workplace safety. It is a total Mobile Equipment employed for variety of uses. It has an extendable arm to reach the full length of truck or container.
Extension and retraction are fully motor-driven, with very fast response to operator actions. Various body lengths and extensions can be selected to allow access to the full length of the vehicle. The telescopic belt conveyor can switch between indexing mode and fast transport for buffering functionality.
Improves ergonomic working conditions
Automatic uploading system for Bags, Boxes, Shipper & Cartons
Save Time, Energy & Money
Efficient & Productive System
Portable. Reverse & Forward System
Quick Delivery Commitment
Increase Work Efficiency
Decrease Labour intensity
Reduces labor cost and increases profit margins.
Easily carries materials of different shape, weight and sizes.
Truck loading and unloading process time decreases.
Prevents human injury and product damage during transportation.